September is National Preparedness Month
September is National Preparedness Month
According to the U.S. Census Bureau, the 2017 American Housing Survey found that 52.9 percent of U.S. homes have a prepared emergency evacuation kit and 58.6 percent have an emergency water supply. September is National Preparedness Month (NPM) –are you ready?
NPM is meant to encourage emergency planning for families and communities to prepare for a potential disaster. The 2019 theme is Prepared, Not Scared. Be Ready for Disasters.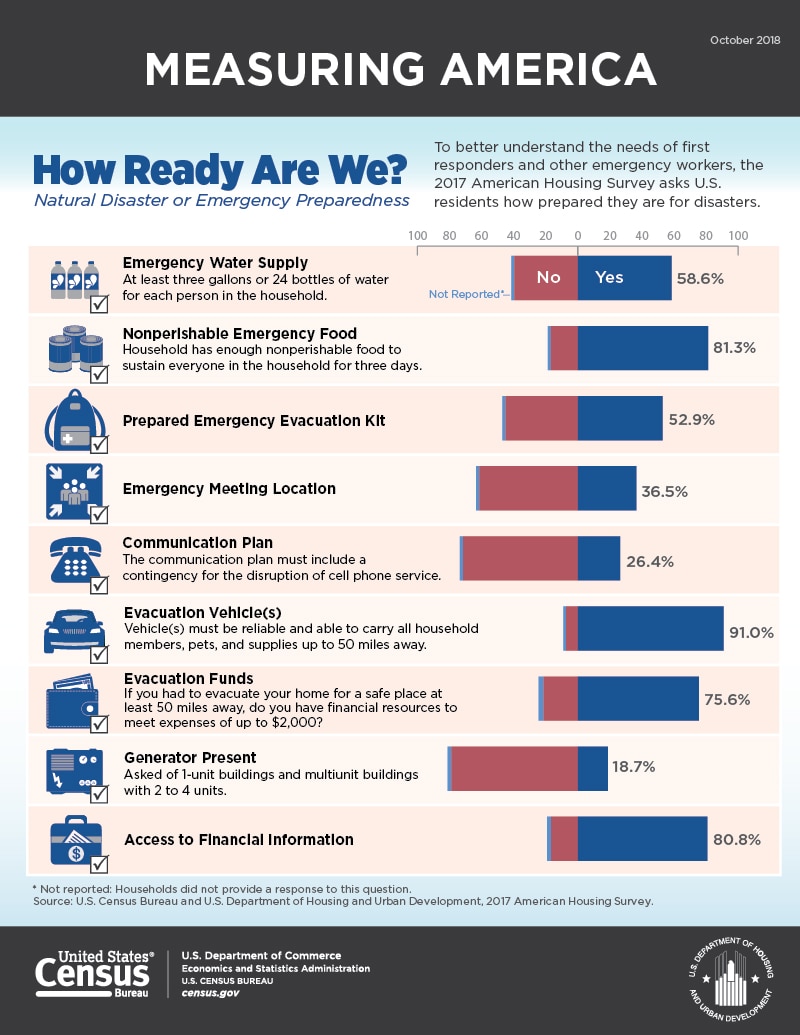 This year, FEMA has set a campaign that emphasizes unique aspects of preparedness including saving early for disaster costs; making a plan; teaching youth to prepare for disasters and getting involved in your community's preparedness.
The main takeways by topic from Ready.gov:
Save early for disaster costs
Check your insurance coverage—floods are the nation's most common natural disaster but flood damage is rarely covered under your homeowner's or renter's policy.
Take simple no-cost or low-cost steps to protect your valuables now—create a photographic record of your inventory and scan important documents like vital records, medical records and financial documents.
Consider saving money in an emergency savings account and always keep some cash on hand as ATMs and credit card readers may not be working.
Make a plan
Youth preparedness
Teach children what to do in an emergency; how to text and call for help; go over emergency contact numbers
Update school records and follow school's social media
Include children's medication and supplies; build a kit with non-perishable items, first-aid, extra batteries, matches in waterproof container, etc.
https://www.ready.gov/kids/build-a-kit
Get involved in your community's preparedness
Community Emergency Response Teams (CERTs) train volunteers to prepare for disasters that may face their area. For local listings, check:
https://community.fema.gov/Register/Register_Search_Programs
Take classes in lifesaving skills such as CPR/AED.
Learn more about hazards that affect your community and their appropriate responses.
For a wealth of resources on every topic follow Ready online at ready.gov and on Facebook and Twitter. You also can follow FEMA online at fema.gov, the FEMA blog, and on Facebook, Twitter, Instagram and YouTube.